Most owners fail to plan, or have a plan that's out of date or incomplete.
Our free checklist will give you a realistic look at how well you're prepared to leave your business and use it to fund your retirement.
I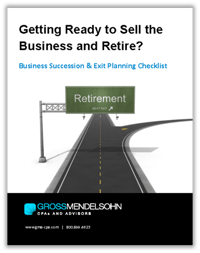 n only a few moments, you'll get a snapshot of where you are and where you need to go with respect to:
Getting ready
Retirement strategy
Contingency plans
Tax planning
Succession planning
Transferring a family owned business
Simply complete and submit the form for an immediate download.